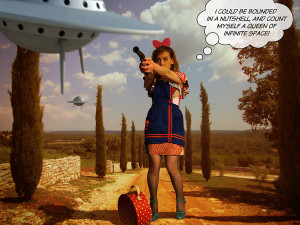 Julia Murakami, was born in Lucerne, Switzerland. She spent her early childhood in New York and Miami before settling in Germany. Since moving i.a. to Berlin, she has immersed herself in many aspects of diorama art, photography, paintings and site specific work. Influenced by the heroines and iconic imagery of her childhood – from The Wizard of Oz to Wonder Woman, from silent films to Greek mythology – she grew up on the crossroads of different cultural backgrounds.
She has participated in exhibitions and art fairs in Germany, Switzerland, Spain, France, Italy, Czech Republic, USA, Thailand, and South Korea. Her works were included in Musée Magazine, European Photography and Hospodářské Noviny along with Jan Švankmajer, Abelardo Morell, Sebastião Salgado and Daido Moriyama. The art resort magazine published a special feature about her ongoing worldwide art project "Japanese Guerilla Paparazzi" documenting site specific installations in Thailand.
Besides her work as an artist, Julia Murakami is a regular curator/artistic director for Directors Lounge Berlin, contemporary media and art.
Julia Murakami is represented by KH5 Gallery, Zwinglistrasse 5, 8004 Zurich, Switzerland